I've spent the better part of the weekend being productive for the first time in what feels like a hundred years. It was wonderful. I made cornhole bags (don't ask), knitting needle cases, finished some embarrassingly backed up work from over the summer, and redesigned my jewelry web site. I've spent a huge amount of time at the sewing machine and the ironing board, and my leg does not hurt. Hurray! Sure, I got tired, but I lasted longer that I would have even before the surgery for we're on the right track.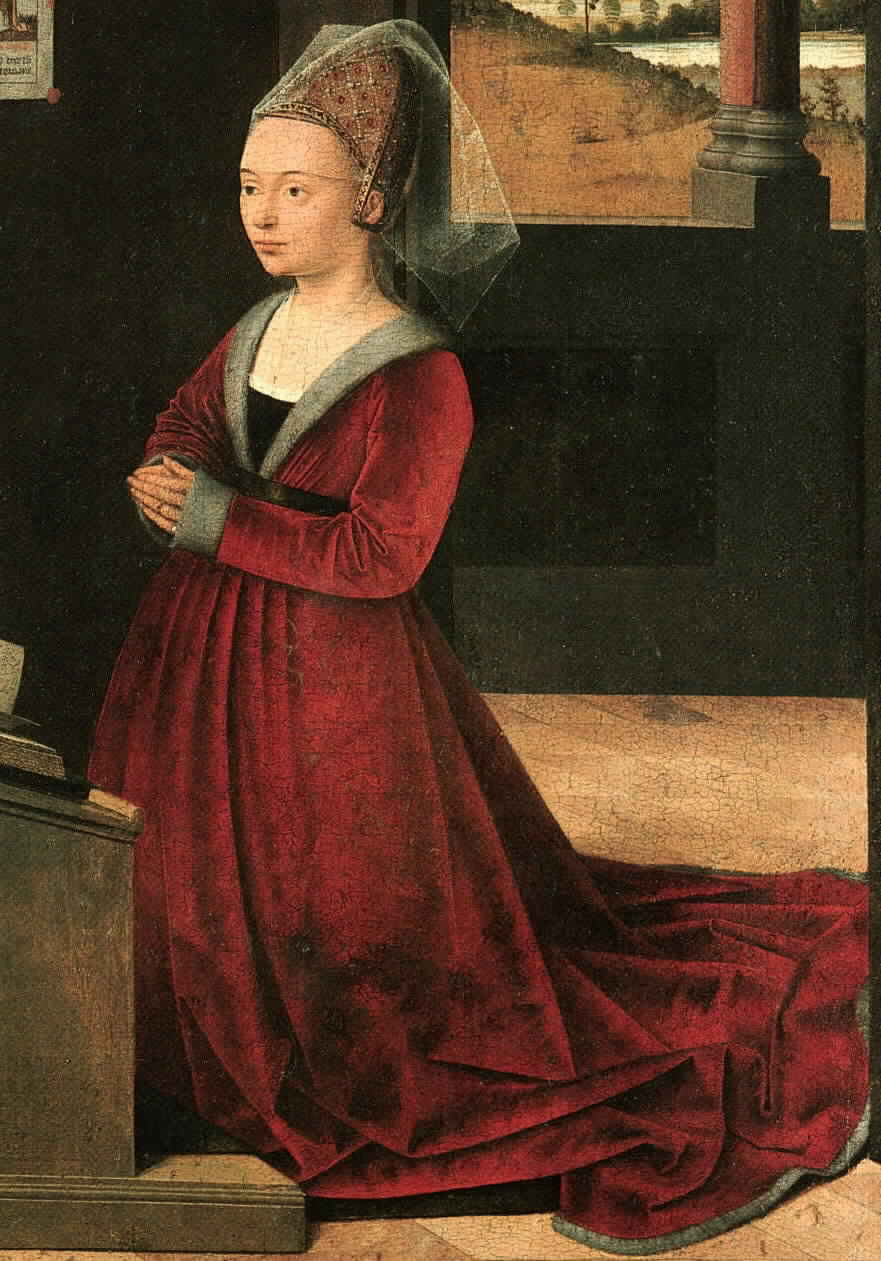 Anyway, the theme for our kingdom's 12th Night is the Court of Maximilian I in 1500. So, German. Which sounds interesting, but not something I would be likely to wear again. However my persona is Flemmish, so that's close enough, and I've been wanting to do this red gown forever, and it dates to 1450 so, again, close enough. I have some red wool to make the gown out of, it's actually red shot with navy, kind of a tiny hounds-tooth, and ends up reading a really rich burgundy. It's a little light, so I may have to line it, but I have some burgundy linen I can use for the lining.
The collar and cuffs look to have a very short pile, my guess is it's fur. Finding a good low-pile fake fur is not going to be easy so I will probably just use velvet, hopefully in a silvery or cream color so it looks like the picture.
I'm really *really* excited about the hat. Especially since it isn't black. It sort of looks like the crown might be rounded too, but that might be a trick of the veil. I've got to decide how I want to build this thing, doing it with buckram will be easy enough but I'm not sure if that's how they were most likely made. It could also be a felt form that's been decorated. I doubt it's straw. At least I know what I need to research.