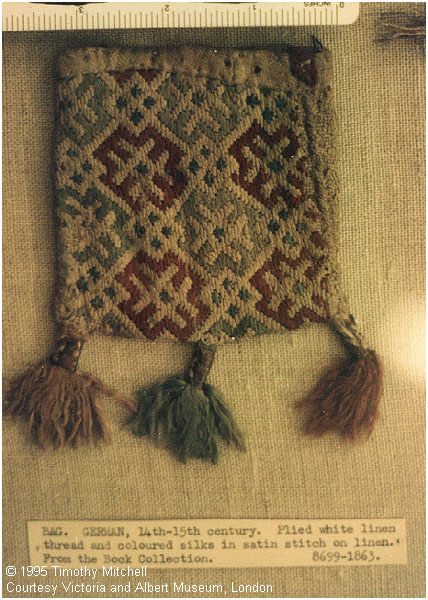 I've been mulling over how to finish my lattice bag for the last few days. The embroidery itself took such a long time, I really don't want to kill the whole piece with poor finishing. Some of the extant bags done in this particular style have the drawstrings threaded right through the embroidery, which is how I did the first bag I made, but the original lattice bag has some sort of band at the top that the strings go through. It's hard to tell from the pictures on line what this band is made from, so I'm trying to decide what will work best, look good, and still be true to the original.
I had come across the bag to the left when I researching the first bag and I think I have my answer! Yay! It's rather roughly finished, but the top has a binding of ribbon or fabric that folds over the top edge and is whipped stitched down on the front of the bag. It seems to have worked eyelets (boo) through which the strings would be threaded. From the picture, it looks like the band was put on in one continuous loop after the bag was assembled, leaving only one seam in the band piece, but it's hard to tell for certain. This particular bag is folded along the side edge rather than the bottom edge, so the construction is a little strange to begin with.
In digging through my fabric stash I found a big of dark red silk that sort of matches the silk I used for the red eyelets and the silk I have for the drawstrings and tassels (which don't exactly match each other but you can hardly tell). It's not a perfect match, the silk fabric is a little more of a rust than a blue-red, which is what I used for the embroidery, but I don't think I'm going to find anything better in the shops locally. The other red I have is way too bright, so the slightly rusty shade is probably going to be the best match. I thought I had some burgundy china silk someplace but I can't find it anywhere. Don't you hate that? I've got one place left to look, then I can start on the finishing tomorrow afternoon! Having a plan is good!