I've been staring at my cutting diagram for my blue linen houppeland for days now and hiding from the scissors. It's not so much that I'm worried about the choice of fabric, or even the cutting diagram, it's this dress: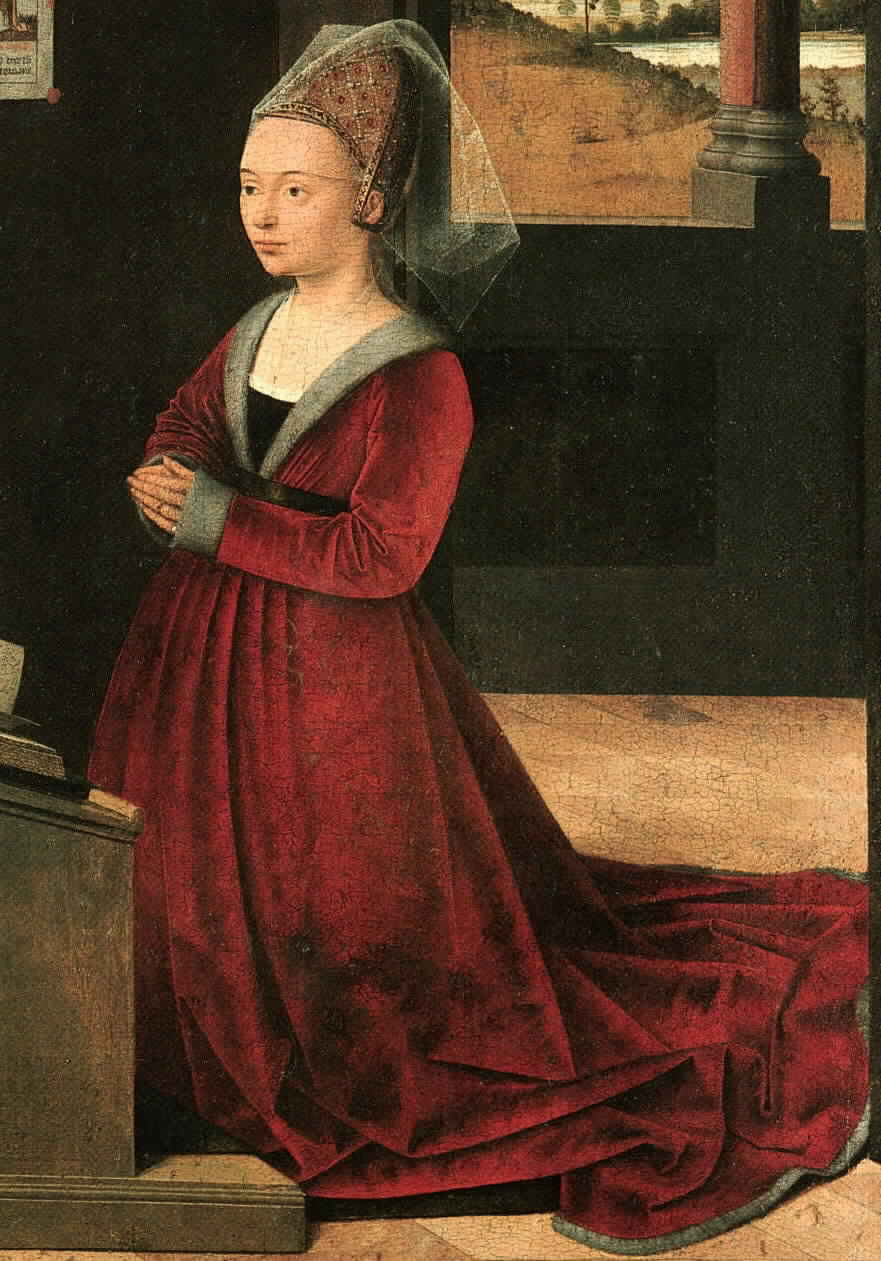 It's just a couple of years later than the wider sleeved red dress I posted about earlier but MUCH closer in style to the Burgundian gowns that the houppeland eventually morphed in to. And I really like it. It's pretty. The neckline is nice, the sleeves are the perfect sort of tight for my chubby arms, and it will also keep fitting (I think) as I gradually shrink. I keep coming back to this picture. It might just be the red velvet, maybe it's the hat, but eventually I need this dress.
Looking at the paining, it appears that the fullness of the gown is starting a bit lower down than on the ginormous houp's of a few years earlier, giving a smoother fit over the bust area but still some fullness and soft gathering just above where the belt is controlling everything. I think my same pattern layout will still work here, especially since I'm using linen and not a thicker wool or velvet like in the painting. Since the neckline will get carved out a little differently, that should shift things and smoother it out in front the way I need it to, if I'm getting my head around all this right. Of course, I can't see the back of the dress but I doubt it's got much pleating and folding above the belt in back either.
Maybe I need to go with a Greenland style cut for this shape? There's a good example of that approach on
Matilda la Zouche's LJ
which looks like it's hanging correctly for this style. Or fiddle with the shape or placement of the triangles? Or just dive end and see what I end up with? I'll get either this one or the other one, either of which is good and wearable, and have learned something that will help with the next one in the process.